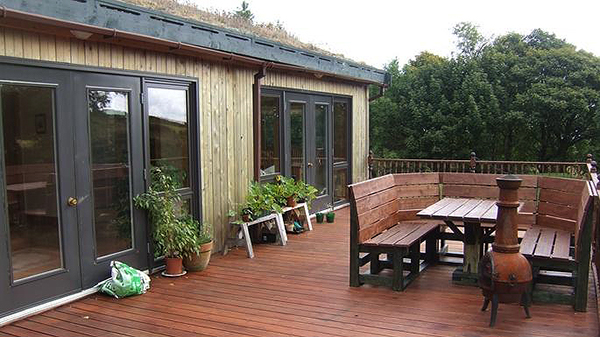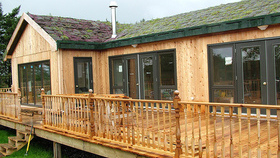 A 2 bed 2-storey farm house, in need of extensive renovation, was existing on the 1.5 acre site at Poulanairgid, Co. Cork. This was tucked away in the lower North-West corner, shaded by mature trees from both the view and sun. Access to the adjacent farmed fields passed within 1 metre of the house. Not ideal. From here, heading across the site, the site opened up to landscape views. The land rose to the south and leveled off to a forest in the distance.
We proposed a new seperate split-level dwelling. The existing dwelling to be converted to a home office and store space at a later date.
The internal layout of the new dwelling is dictated by the solar path.
Three of the bedrooms and the bathroom are located on the ground floor to the North. The master bedroom has an en-suite to the north of the room. This effectively 'buffers' the warmer bedroom from the cooler North. A bathroom 'buffers' the bedroom to the west.These 'buffers' reduce the pressure for heat to escape from the building by reducing the temperature difference between the inside and the outside.
The kitchen dining and living areas receive both the heat and light from the sun as it moves around during the day. The kitchen/dining area recieves the morning and midday sun. The living room receives the south and west sun.
Good orientation and internal layout maximize the solar potential reducing the heating demands of the house.The heating is provided by a wood-pelet boiler and is zoned.
The construction is timber frame and is designed and built to 'Super-E' standards (Super-E is the European equivilant of the 'R-2000' standard used in Canada). The principles are simple. First reduce the heating demand by mindful internal design. Highly insulate, make air-tight and use a MVHR-mechanical heat recovery ventilation-system.
The first floor is clad in cedar while grass covers the roof.