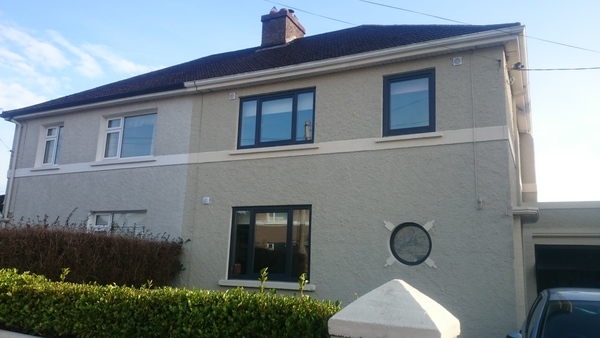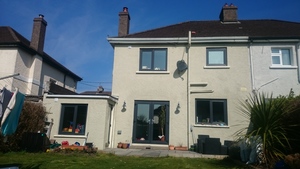 Upgrade and alterations to a 1950s single leaf hollow concrete block in Lake Lawn, Cork City.
The house was gutted, new plumbing and electrics installed, internal walls and ceilings were re-plastered.
The existing suspended timber ground floor was insulated. First the floor boards were removed. The good ones saved and reused .Felt was draped and stapled over the floor joists. Rockwool insulation was placed between the joists. The felt holds the insulation in place and also prevents draughts from the circulating air below the joists.
The kitchen and dining room were opened up.  A new larger window and french doors bring in more light.  The fire place in the dining area was relined and a multi fuel stove put in place. An ope was created here to the existing  garage and  converted to a playroom.
All existing windows were replaced with new  double glazing and sealed air-tight using Pro Clima tapes.
The gas boiler was replaced and a 3-zone heating system was installed. This is contolled by a 7day -programmer.A new multi fuel stove was fitted in the living room.
An 'Aereco' demand-controlled ventilation system was installed to maintain good air quality. An important issue that is coming to peoples attention as we make our homes more air-tight.
External insulation is planned in the future so 20mm extension pieces were fitted to the new window frames to cater for the returning insulation over the jambs.
The patio is of dark grey indian sandstone which retains the suns heat creating a micro-climate of sorts for sitting out and for the potted plants. A raised bed for flowers and herbs runs along one border while a vegetable plot is located close to the kitchen.