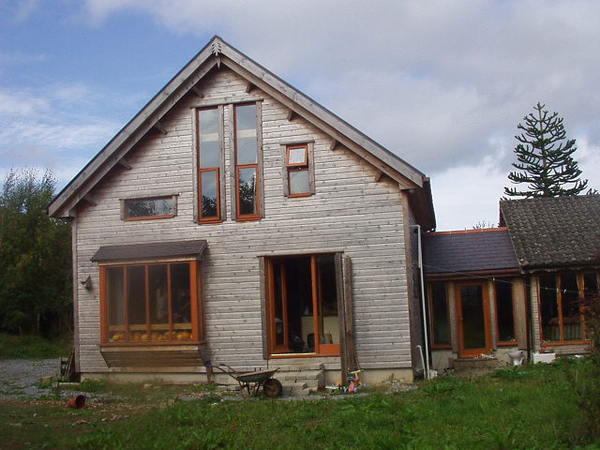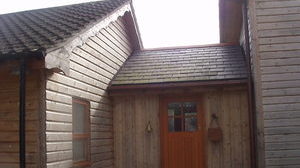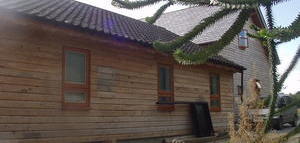 A two story extension and upgrade of the existing 3 bed bungalow in Castletownroche, Co. Cork.
The existing bungalow walls were of single leaf concrete panels. With no insulation in the walls,the house was cold and damp in the winter and hard to heat.
The upgrade addressed this problem and we started with the roof space. The existing poor insulation was replaced with 300mm of sheeps wool.  A breathable material with the ability to retain and release moisture which helps keep the timbers dry. Ideal for our humid climate.
To insulate the single leaf concrete panel walls we opted for internal insulation. With internal insulation condensation is inevitable and has to be considered in the method used.  Insulated slabs dabbed straight onto a single leaf wall can cause mould growth, affecting the indoor air quality. Cold concrete next to insulation will cause moisture.
In this case, we used an insulating material that allows the movement of moisture (sheeps wool) between 200mm deep timber studs. A panelvent vent sheathing board dressed the studs. Again a breathable material.
We could afford to lose 200mm on the perimeter walls as the new 2-storey extension would now accommodate the kitchen, living room and master bedroom, so the existing bungalow now housed just 3 bedrooms and a bathroom.
A Bulerjan wood burning stove feeds the new radiators and also provides the hot water.
Timber double-glazed windows and doors replaced the existing, which were of aluminum and single-glazed.
External walls were battened and clad in untreated larch.
The 2-storey extension is timber framed with reclaimed Douglas Fir, clad in untreated larch, insulated with sheeps wool and sheathed with a Panelvent board.
The well insulated breathable wall construction using natural materials balances the air temperature and regulates the internal air quality.  The natural materials by their nature absorb toxins helping to purify the air. Sheeps wool has the ideal property of retaining moisture and slowly releasing it, regulating the internal humidity.
The location, fenestration and internal layout of the extension are dictated by the path of the sun. The sun floods the kitchen in the morning. The majority of the glazing is to the south, collecting the sunlight and solar gain as the sun moves around.
The layout is open-plan.  Kitchen to the east dining to the south moving into connected living space in the North-West A wood burring stove is the only source of space heat needed.The bathroom is situated to the North.
A master bedroom and en-suite are upstairs.
The extension is linked to the existing bungalow as shown in the picture above
All materials were locally source and where internal wood was treated, natural oils were used.