Specialising in the architectural design of houses, extensions and planning permissions in Cork since 1998
I graduated in Architectural Technology from the C.I.T in 1990 and subsequently emigrated to London. When I was in there, I began reading about sustainable building practices in construction, focusing on residential scale projects. I visited BedZed, in South London, a zero-energy housing project, designed to be self-sufficient in its' energy needs. The build method and philosophy had a marked effect on me.
I returned to Cork in 1998 and set up Wiseman Designs to provide sustainable architectural design, consultancy, & planning services. .
Over the years I have designed various projects including a housing estate, apartments, public houses, a church, pool halls  etc but my passion lies in residential scale designs.
Below is list of services we can provide for you-
RESIDENTIAL DESIGN – HOUSES  EXTENSIONS  ALTERATIONS/RENOVATIONS
COMMERICAL DESIGN – APARTMENTS, CRECHES,PUBLIC HOUSES ETC.
GARDEN DESIGN
PLANNING APPLICATIONS
PLANNING APPEAL REPORTS
ENGINEERING & CONSTRUCTION SERVICES
CONSTRUCTION SUPERVISION
COMPLIANCE REPORTS
FIRE SAFETY REPORTS
FLOOD RISK ASSESSMENT REPORTS
HOME ENERGY CONSULTANCY
BUILDING ENERGY RATINGS
RENEWABLE TECHNOLOGIES CONSULTANCY
NATURAL BUILDING CONSULTANCY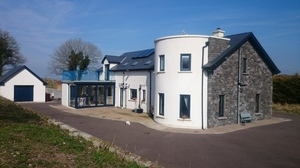 'Having been refused permission numerous times on our site, we were recommended to call Alan in. We were amazed when he got planning first time. As he said himself, the design was site specific, which appeased the planners, and regarding the other hurdles, it was just a matter of identifying the problem, to whom it affected, establishing a workable solution and communicating this clearly to the relevant parties. He made it sound so simple. '
Alan Maher, Cork
---
NATURAL BUILDING
I am interested in natural building materials and techniques as in straw, earth, lime/hemp, light earth construction. I have been involved in a number of projects and have researched and lectured extensively on the subject.
We received planning permission for a straw-bale classroom in 2011. This was the first commercial straw-bale structure to get planning in Ireland.
Though I do get people enquiring about using natural building techniques for one-off dwellings, the majority come from those wishing to add a small extension, garden shed, play house, recording studio etc using low-cost natural materials and techniques.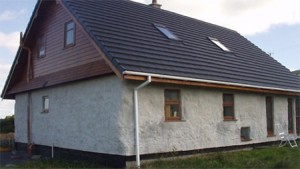 I want to thank you for a very informative and enjoyable course. It changed the way I view design and I even persuaded my cousin to build his extension with straw-bales!!
K. Varden, Senior Architectural Technician